Wellness Care
We believe in the importance of prophylactic care. A thorough physical exam is the optimal way to catch any signs of an emerging disease. Our caring and skilled veterinarians will examine your pet ,make recommendations regarding treatment and answer any questions you may have.



---
Dental Prophylaxis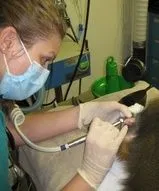 Dental disease is the most common disease in dogs and cats. Preventive dental care at home should include daily brushing of the teeth. Annual oral exams can help screen for dental disease and annual prophies are recommended to minimize plaque and tartar build up. Keeping the teeth clean is the best way to prevent periodontal disease and keep our pets healthier and happier.
---
Surgery
Eltingville Veterinary Practice has a state-of-the-art surgical suite. We are fully equipted to handle most any surgical procedure. If your pet requires orthopedic surgery, we have Board Certified Surgeons who will perform surgeries on site. We also can refer you to a specialty hospital.
---
DIgital Radiology/Endoscopy
Diagnostic procedures such as digital radiography, endoscopy, and laboratory testing have become an integrative part of veterinary medicine and serve as an invaluable tool when making a diagnosis and a treatment plan.